3 WAYS TO USE INFOHIO IN YOUR CLASSROOM THIS SCHOOL YEAR
Welcome back to the 2022-2023 school year!
The last few days of summer are upon us and autumn is approaching. Don't let this summer-to-school transition leave you in a rush to find engaging resources to share with your students. INFOhio has what you need so you can begin the school year on the right foot.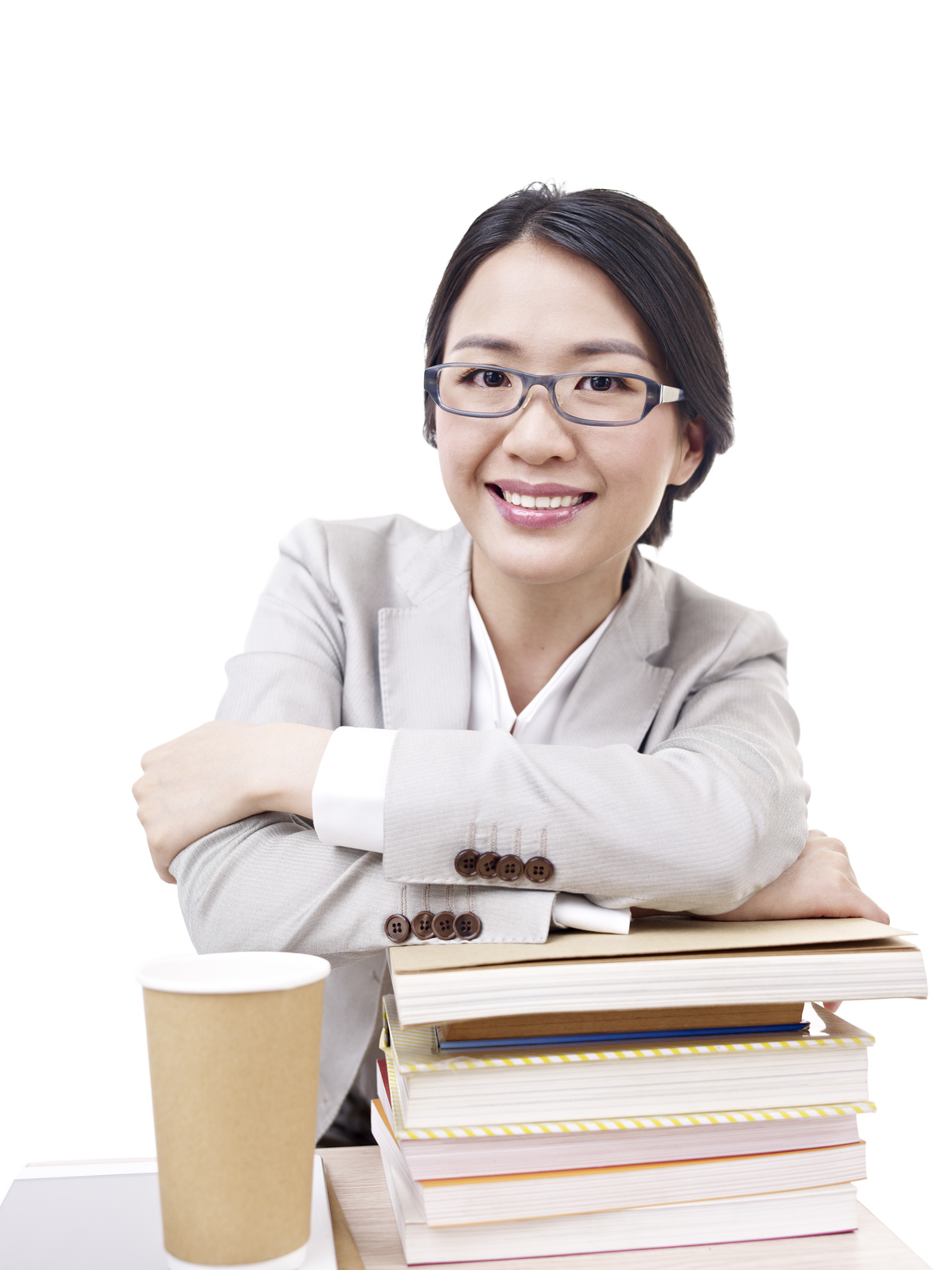 INFOhio connects Ohio students, educators, and families to licensed digital resources and tools that can be integrated into classrooms and libraries at no cost. Are you looking to expand your classroom or school library? Discover eBook collections with unlimited use so every student can access the same book at the same time. Introducing a new topic? Help to build student background knowledge with supplemental research resources. Want to develop problem-solving skills in your students and connect the real world to the classroom? Find STEM resources that are just the ticket.
When introducing a tool or resource for the first time, students will need help with navigation. Each licensed digital resource is unique and it is always a best practice for all educators to model the use of the resources prior to letting students freely browse on their own.
1. Share Unlimited Use eBook Collections for Independent Reading, Whole Group Instruction, and Book Clubs
Having a choice in book selection can help grow students into life-long readers. Scholastic's Power of Reading Choice, Time, and Pleasure states that "self-selection is the hook that snags both children and teens and convinces them to read." INFOhio has several unlimited use fiction and nonfiction collections of eBooks for students from grades K-12 to promote choice in book selection.
All eBooks are unlimited use, which means that multiple students can be on the same eBook at the same time. Not only can these books be used for independent reading, but they could also be used in a whole-group setting and shared during guided reading groups. Digital books could also be used for book clubs where one book is chosen and each member of the group reads it simultaneously.
eBook Collections for Grades K-5
BookFlix
BookFlix offers paired fiction and nonfiction popular texts that engage readers and support literacy. This resource helps students build foundational skills through making connections, building background knowledge, and building vocabulary. It also includes a read-aloud feature that can be disabled as readers progress.
Students can choose from more than 150 pairs of popular titles.
Perfect for whole groups with interactive games to reinforce vocabulary and sequencing.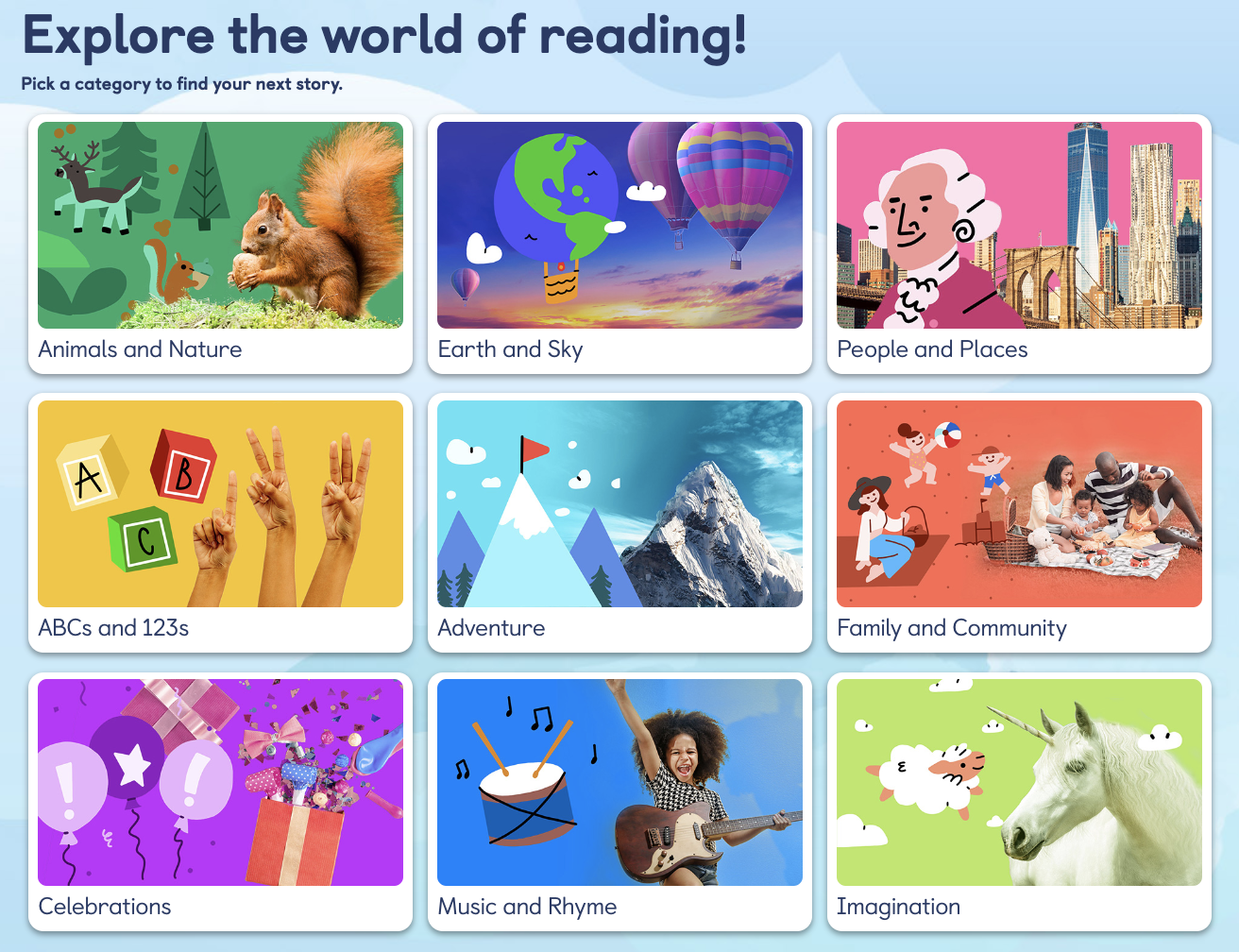 Capstone Interactive eBooks
Capstone Interactive eBooks is a library of more than 800 unlimited use, interactive eBooks for grades 3-6 on the topics of science and social studies. High-interest texts include highlighting and read-aloud capabilities.
Grades 3-6 classrooms will benefit from the nonfiction titles in this collection.
Use the glossary to build word walls and study vocabulary.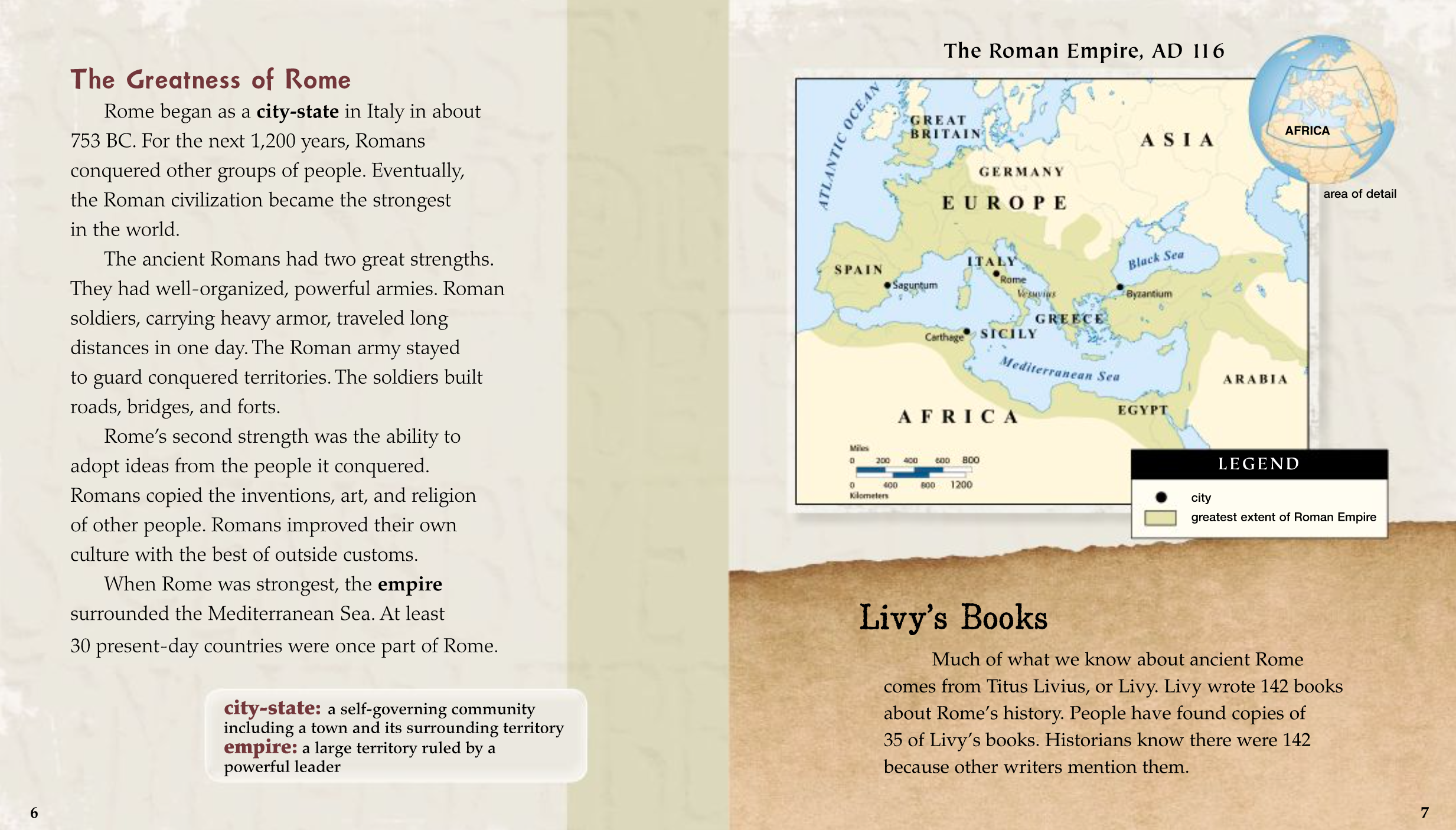 Highlights Library
With Highlights Library, students can browse more than 2,600 fiction and nonfiction digital stories and videos on topics such as animals, science, sports, and social emotional learning. This resource nurtures optimism and a love of reading. Includes a read-aloud feature and Lexile reading levels. After students read a story they can take a short quiz to check their learning and then reward themselves with Hidden Pictures Puzzles, just like the ones featured in the Highlights for Children magazines.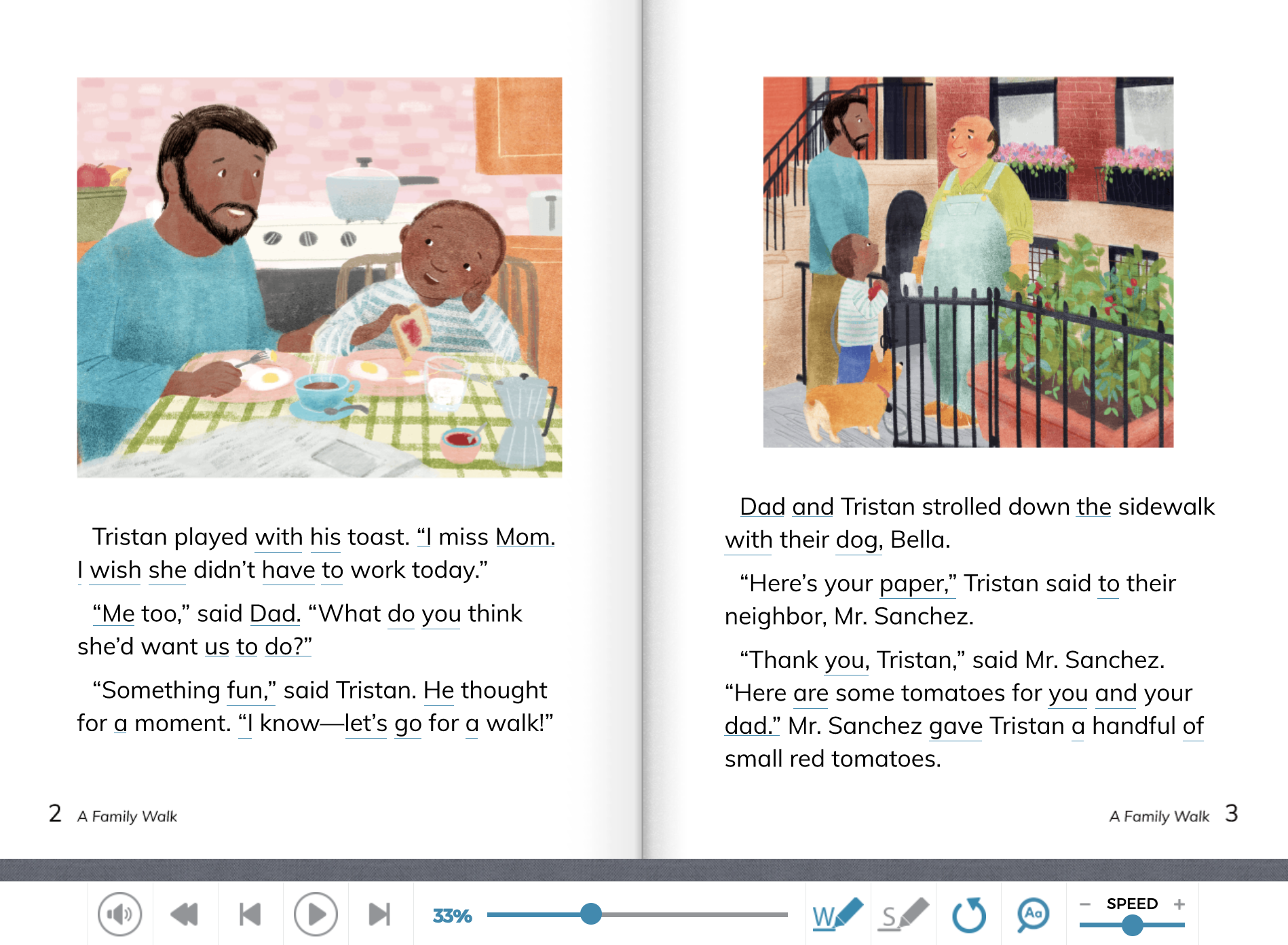 eBook Collections for Grades 6-12
Gale eBooks: Financial Literacy Collection
Need a way to encourage students to begin thinking about their financial future? The Gale eBooks: Financial Literacy Collection provides information on building a budget, buying your first car, and managing your money. Use this chart from the eBook, Living on a Budget by Emma Huddleston to have students think of their own budget and what percentage of it should be going toward each of their expenses.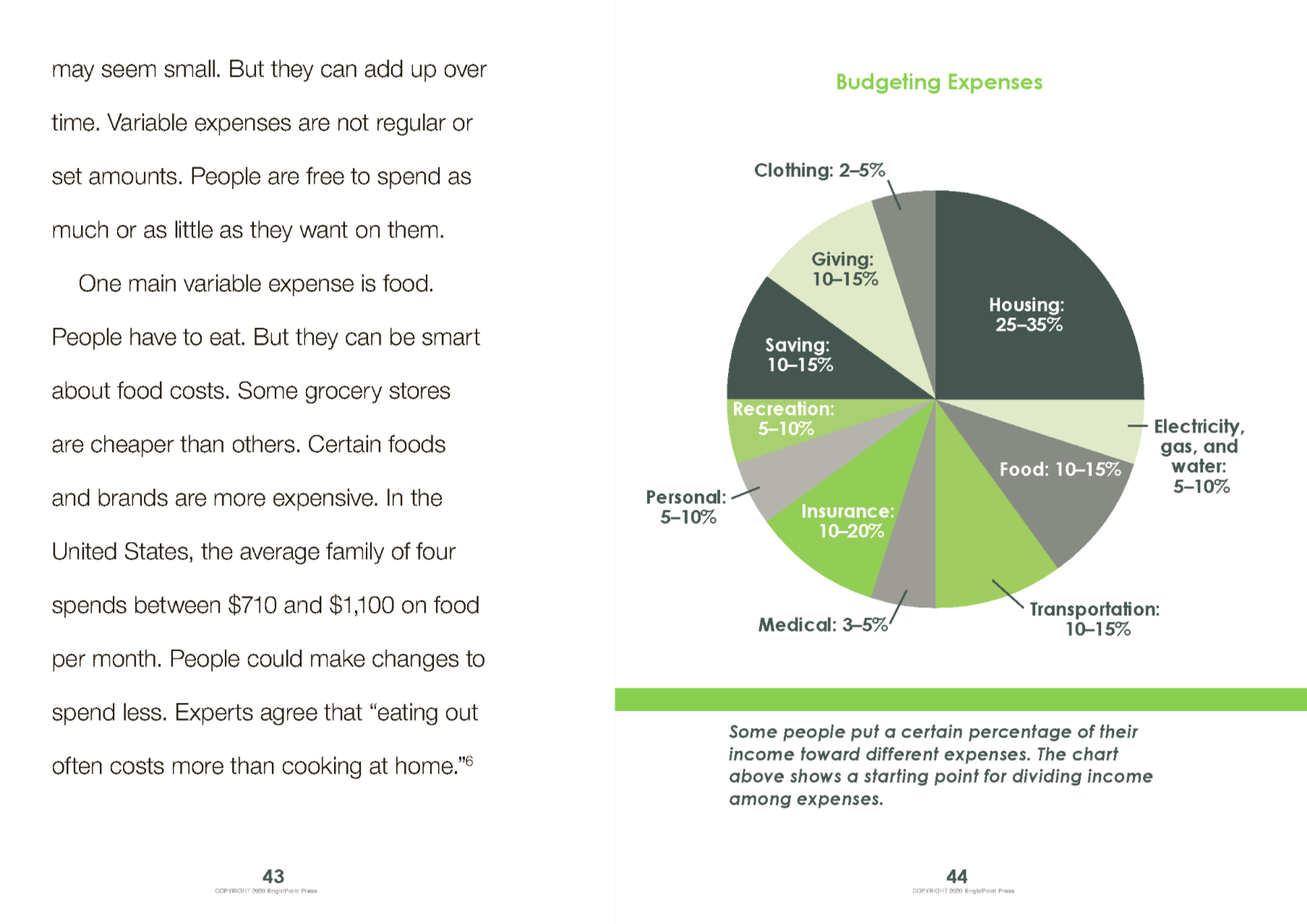 EBSCO High School Collection eBooks
The EBSCO High School Collection eBooks include more than 12,000 fiction and nonfiction titles for students in grades 9-12. Nonfiction subjects include arts, biographies, computer science, history, mathematics, and more. Books can be sorted by subject allowing students to find topics of interest. Below is a page in Winter's Tale, from Graphic Shakespeare, a series that has transformed William Shakespeare's classic literature into graphic novels. This is a great way to introduce the complex text in his works.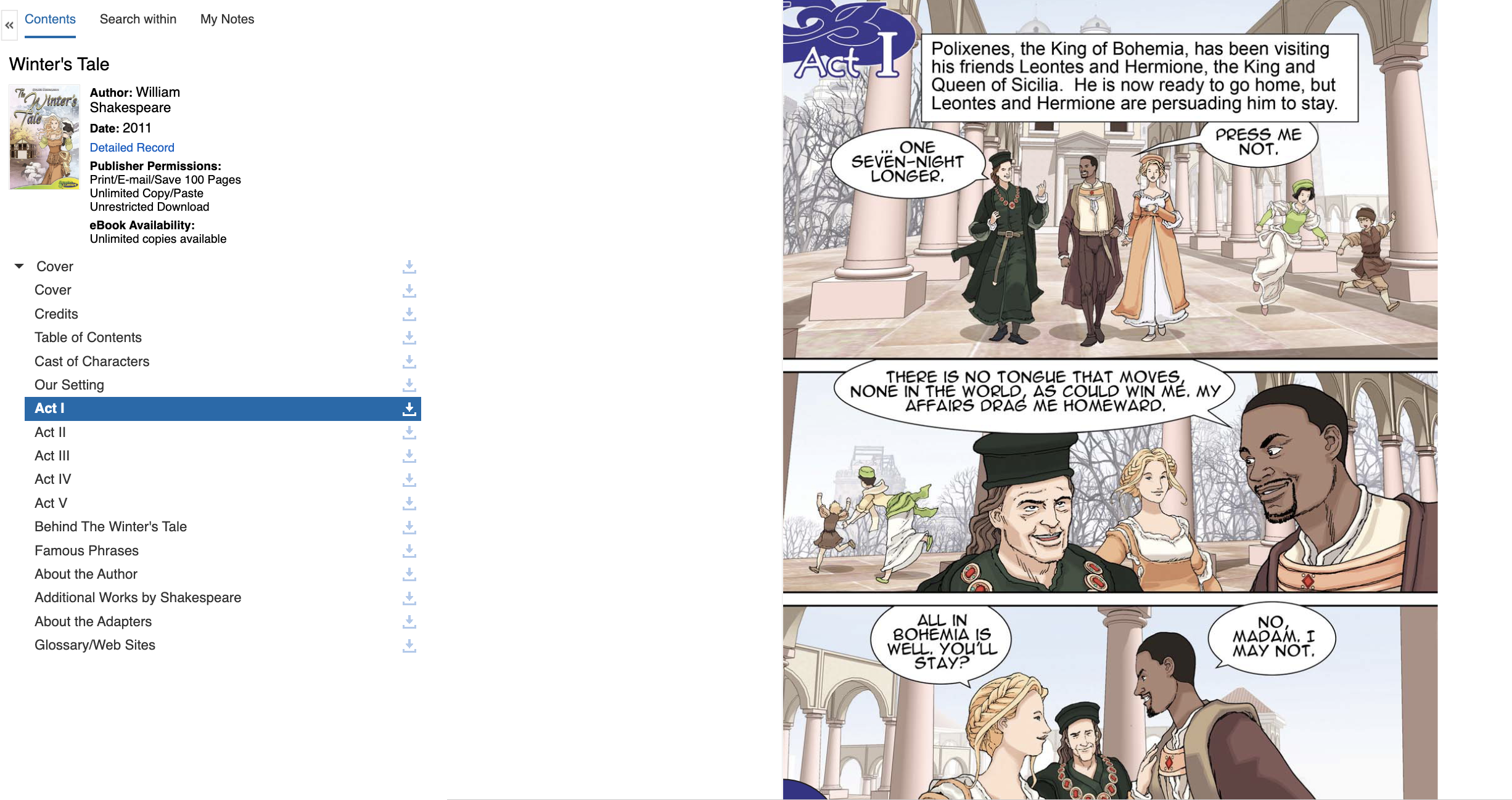 2. Introduce New Learning Topics with Engaging Digital Resources
Building background knowledge supports students' overall comprehension and understanding of texts. According to Reading Rockets, "understanding text depends on readers supplying enough of the unstated premises to make coherent sense of what is being read. But to do this well, readers need to have a foundation of knowledge about the topic." INFOhio provides many engaging licensed digital resources to introduce new learning topics and support building background knowledge.
Resources for Building Background Knowledge for Grades K-5
Gale In Context: Elementary
Gale In Context: Elementary includes articles and videos on topics aligned with Ohio Learning Standards. Search for "water cycle" to find an article that serves as an introduction for students to the topic. Sharing this article with students will introduce them to the topic in an easy-to-understand way.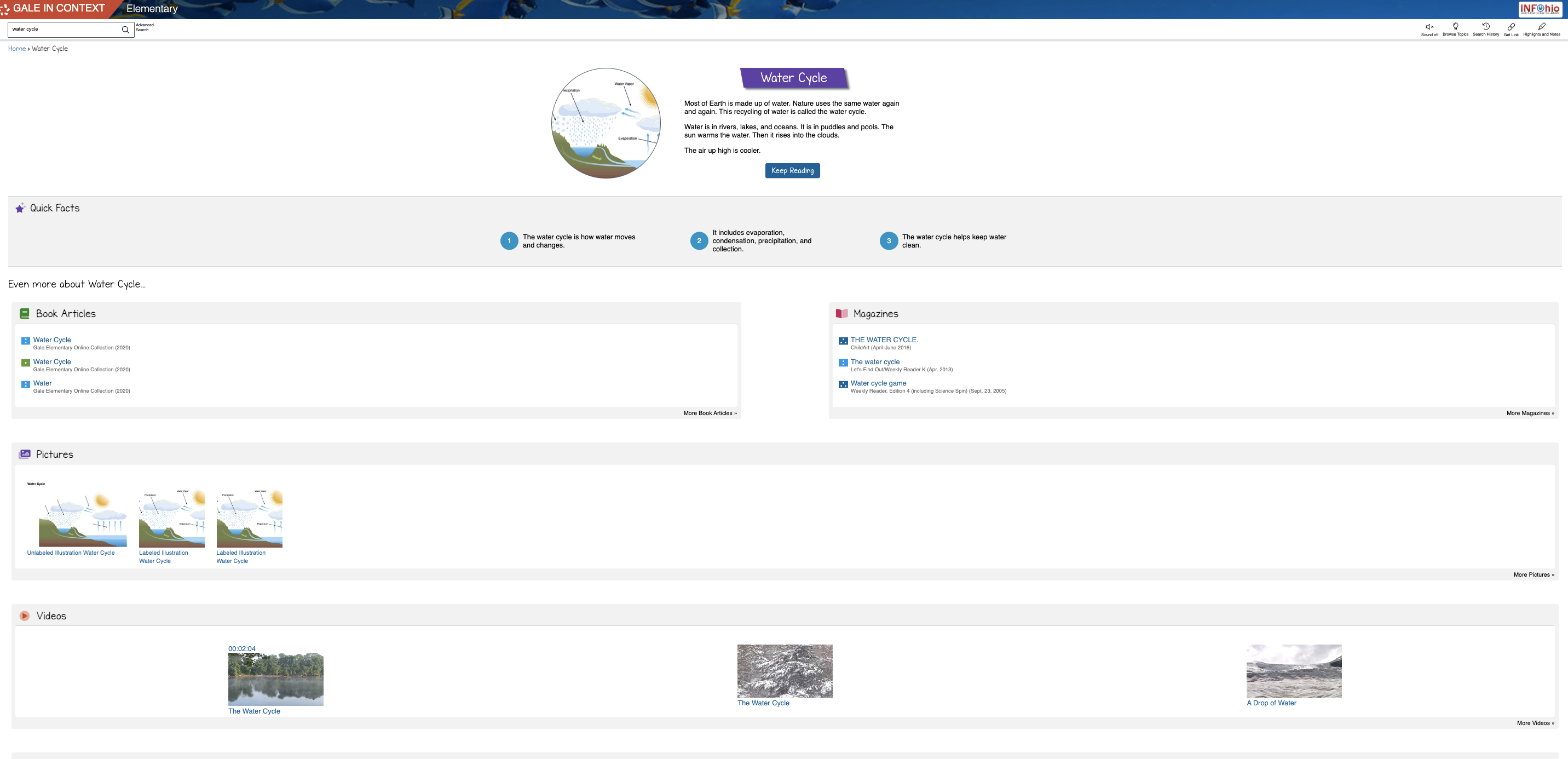 PebbleGo Next
PebbleGo Next from Capstone includes five categories: American Indian History, Biographies, Science, Social Studies, and States. Each article is chunked into tabs, making it easier to navigate to the needed information. Many articles also include a video to explain the topic further and a writing activity directing students to show what they know.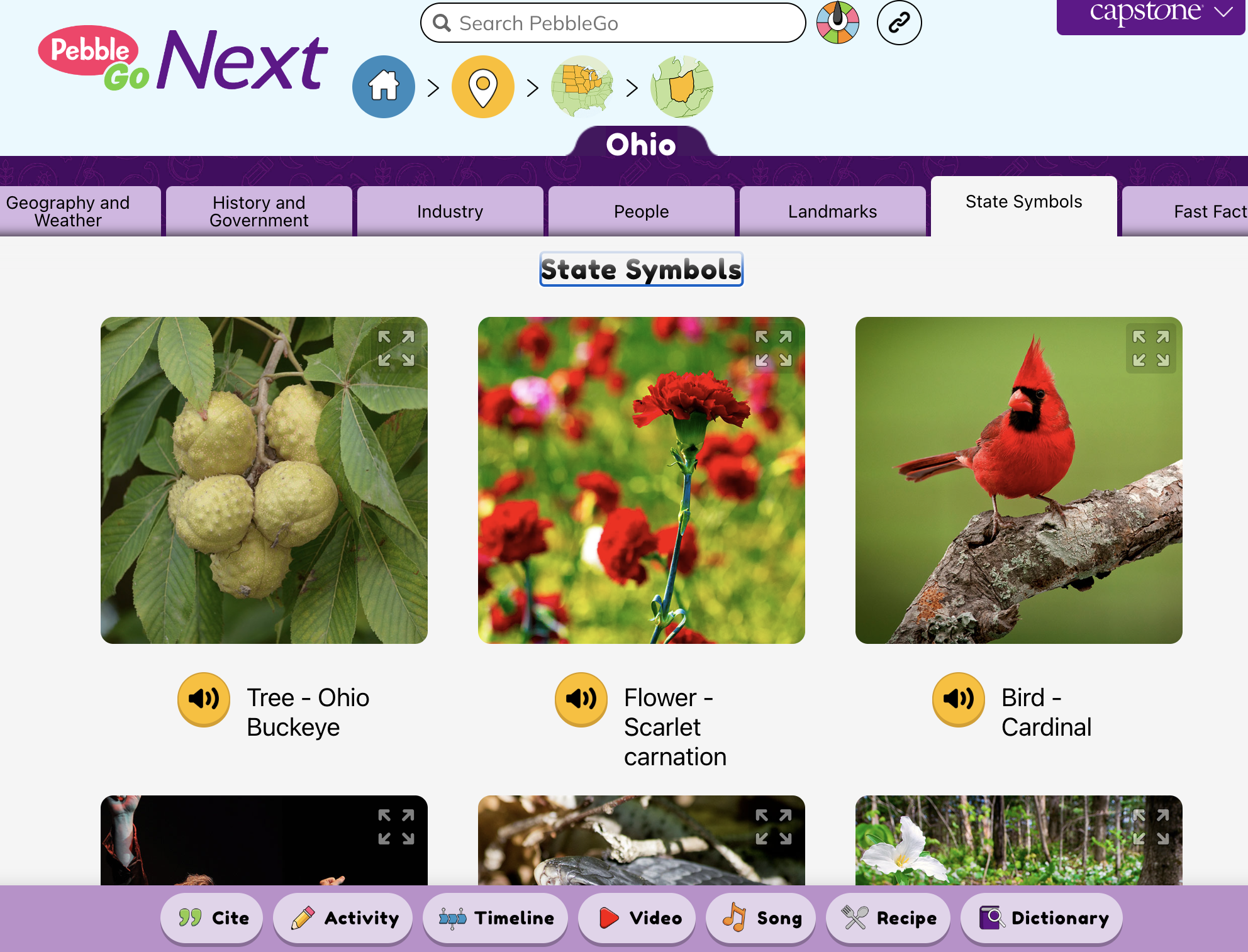 World Book Kids
World Book Kids is an online encyclopedia with a simple interface that makes keyword searching easy for young learners. For example, searching for electricity yields several results including "Electric Generator." Tabs at the top of the article include additional media to provide further understanding.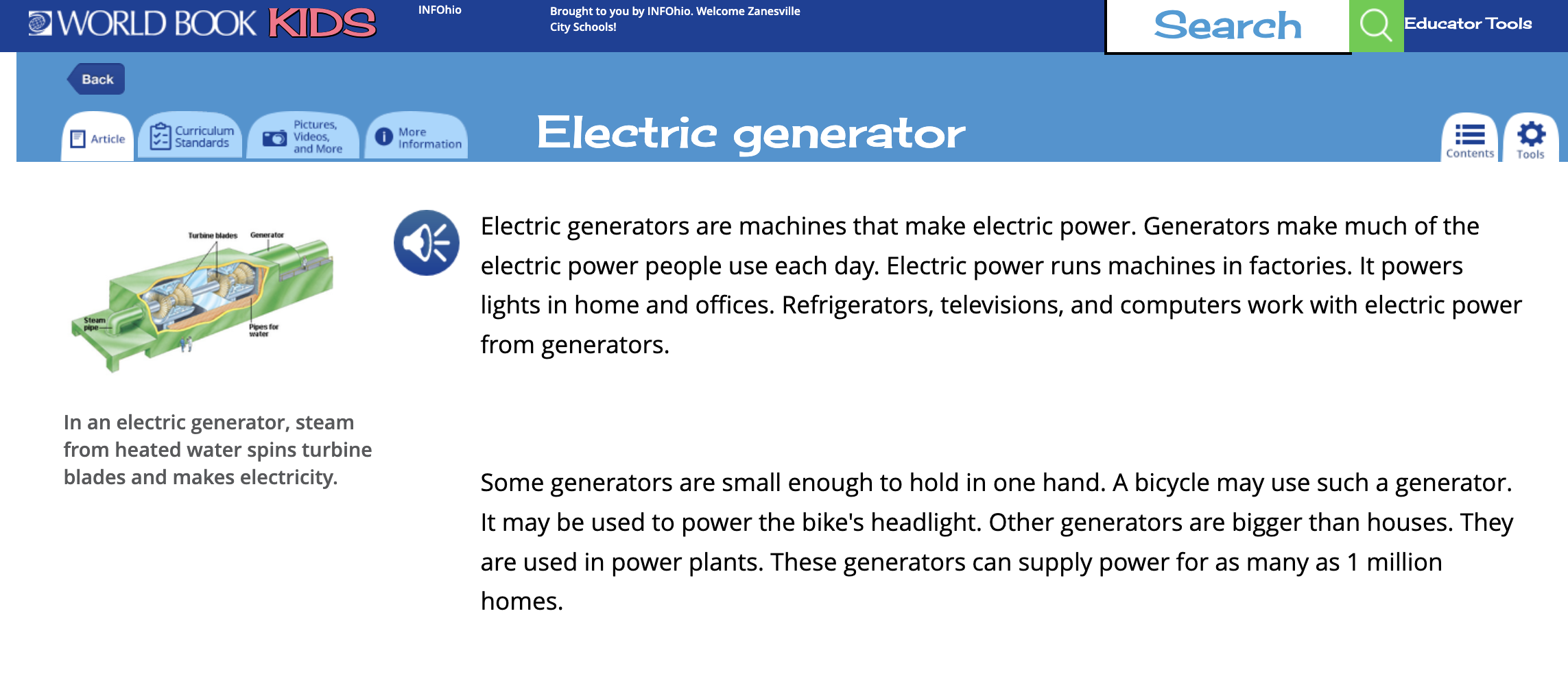 Resources for Building Background Knowledge for Grades 6-12
Digital Video Collection
INFOhio's Digital Video Collection (DVC) includes videos on a variety of curriculum-related topics. Most videos are segmented to view the specific content for personalized learning to meet student needs. Playlists have been created for many topics and series, including Bill Nye the Science Guy with more than 450 episodes. Use the video "Earth's Crust" to build vocabulary and background knowledge.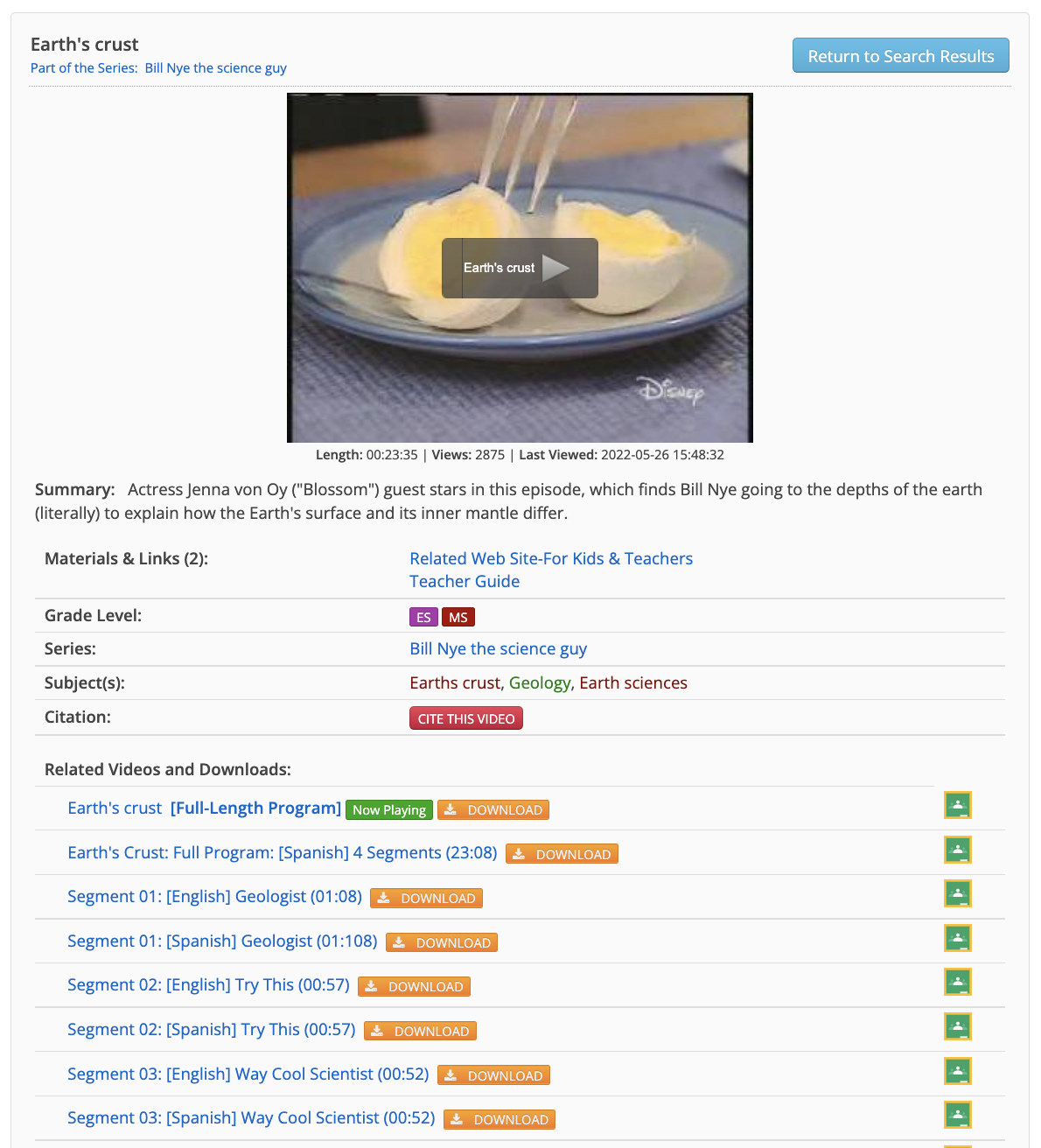 The World Almanac for Kids
The World Almanac for Kids and its counterpart The World Almanac for Kids Elementary for younger learners is an engaging research resource with articles, videos, interactive games, and activities to introduce content-area topics. Use the activity below to support units on food chains for students in grades 6-8.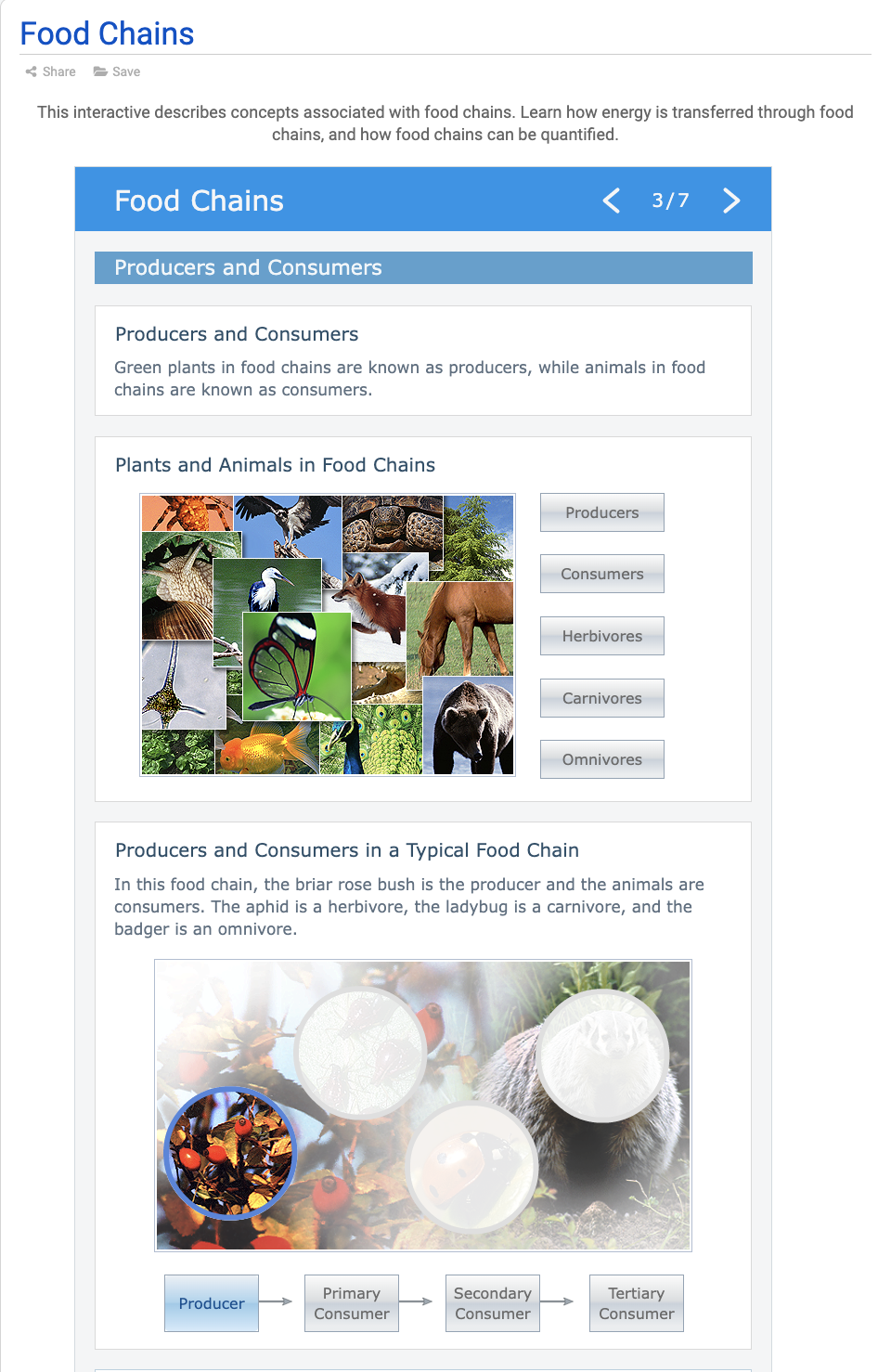 World Book Student and Advanced
World Book Student, an online encyclopedia for grades 5-10, and World Book Advanced, recommended for grades 9-12 are online encyclopedias that are a great place to start learning more about a topic. With features such as read aloud, in-text dictionary, and translation, the resource's articles support reading comprehension. Accessibility is supported with adjustable font size making World Book resources important for differentiation and personalized learning.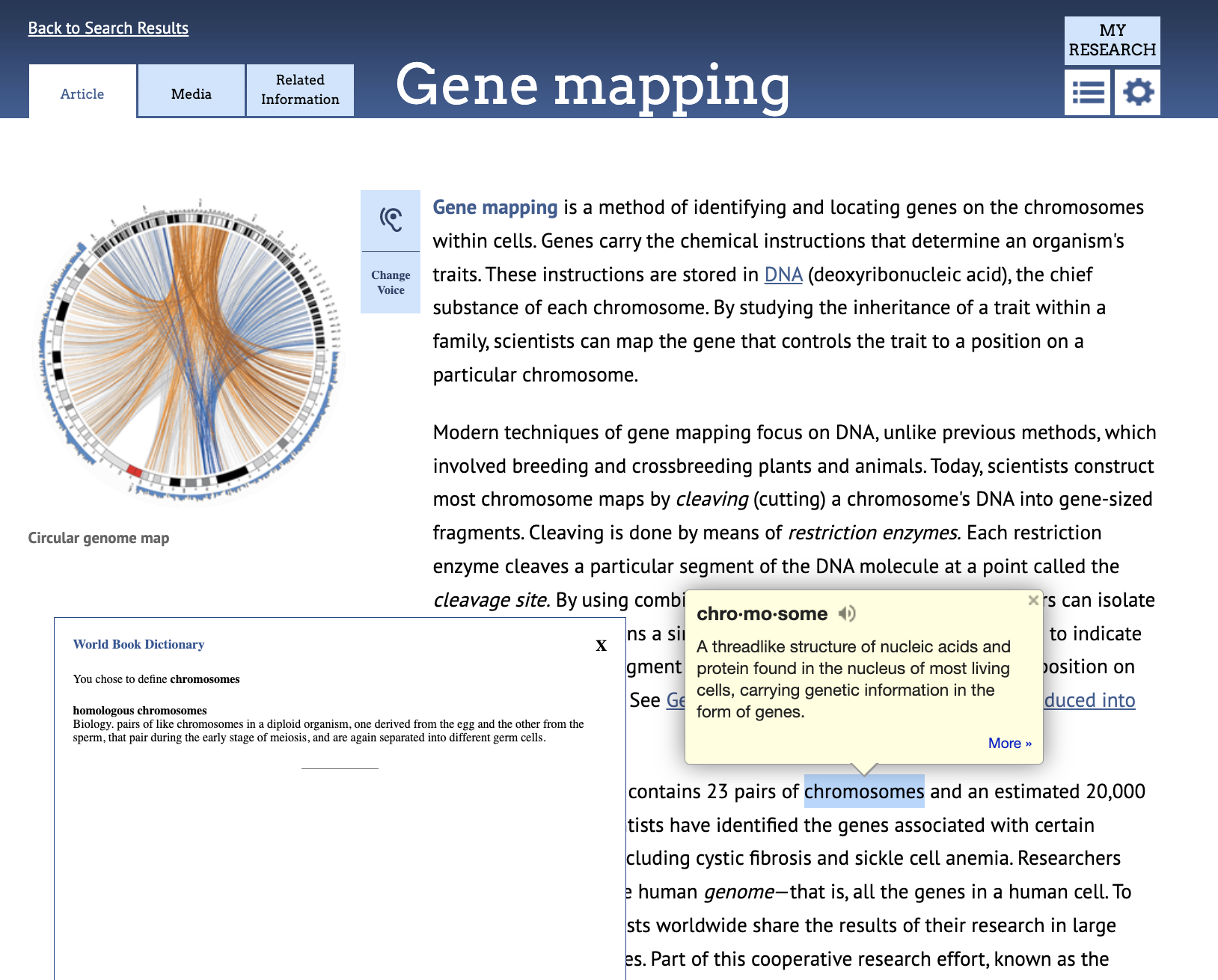 3. Introduce STEM Careers and Ideas into Your Classroom
Science, Technology, Engineering, and Mathematics (STEM) topics and activities focus on logical thought processes and problem-solving, skills that will help students succeed in any college or career planning. Introducing students to STEM field careers and ideas can be the first step in bringing these concepts to the classroom.
Gale eBooks: STEM & Career
The STEM & Career eBooks collection from Gale has more than 80 titles. Students interested in careers in the field of STEM will find some interesting titles to browse, including Cybersecurity Expert, Web Developer, and STEAM Jobs in Social Media.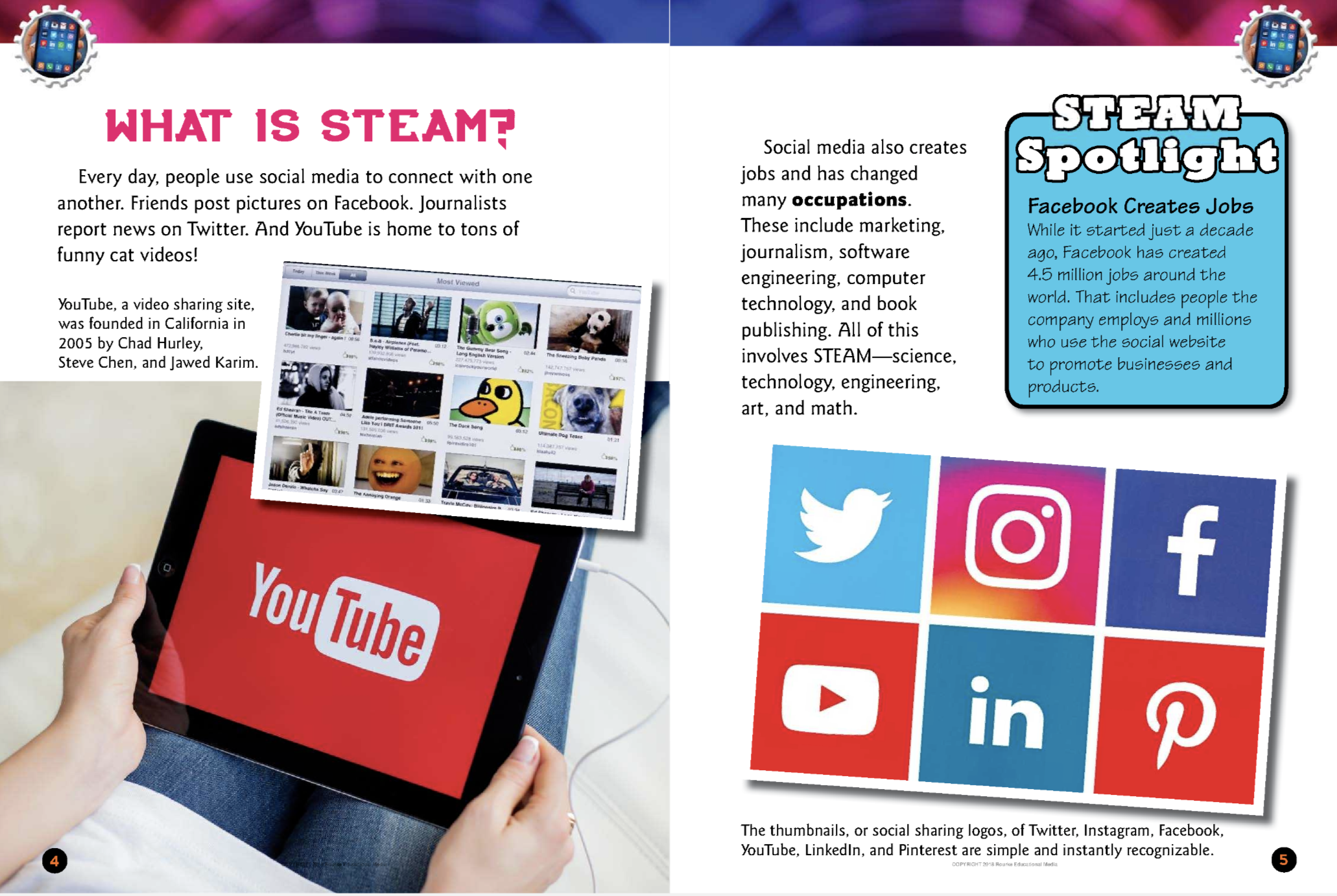 Learn360 STEM & Career Video Collections
Use Learn360 STEM & Career Videos as a starting point for students to explore the skills necessary for STEM careers. Support all learners with closed captions and transcripts.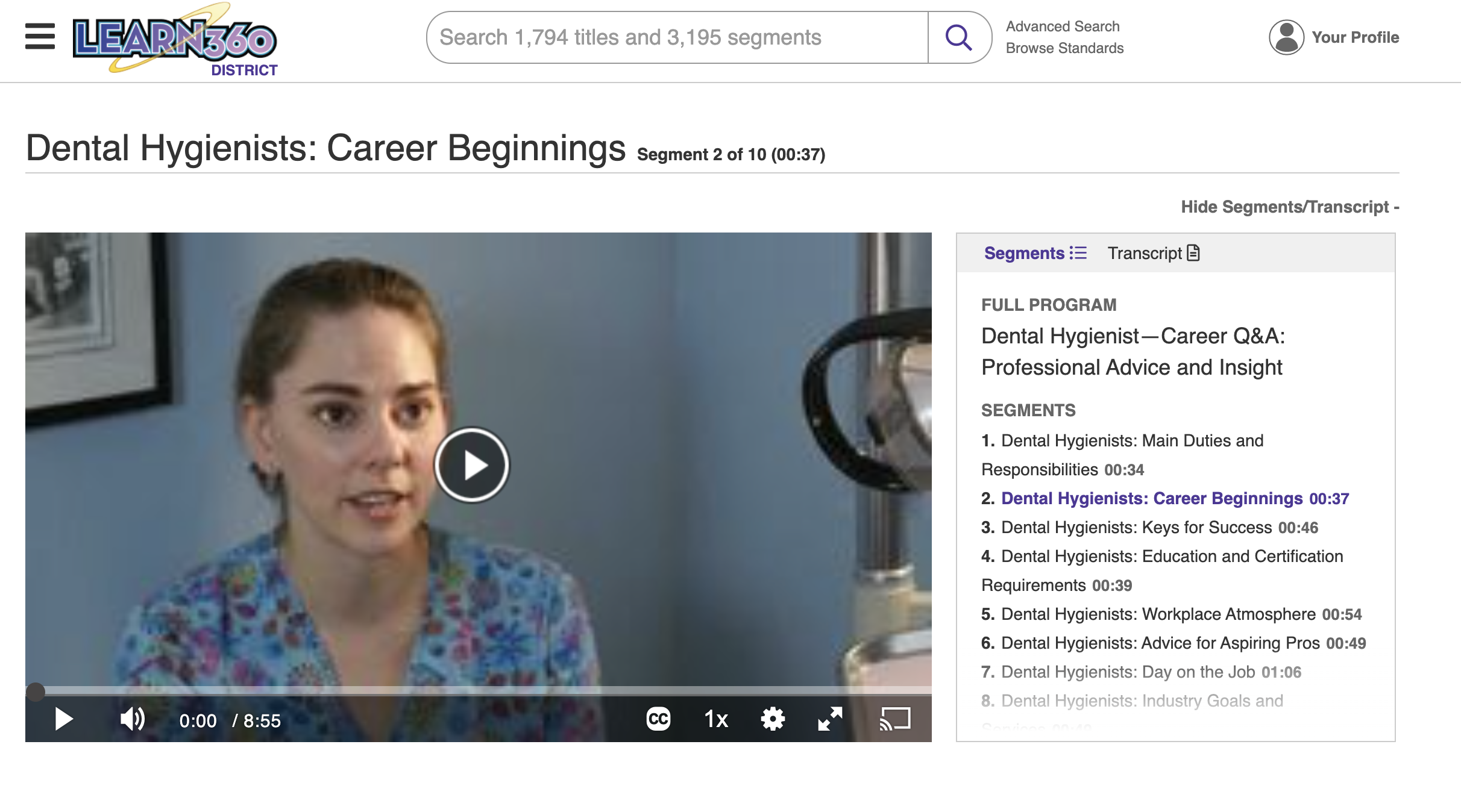 Science Online
Science Online has articles, videos, diagrams, charts, and eLearning modules on many high school science topics such as biology, chemistry, environmental science, and physics. ELearning modules can be used as stand-alone lessons or units. Use the interactive biology activity, A Very Hot Spot, with students to provide hands-on learning if labs aren't available.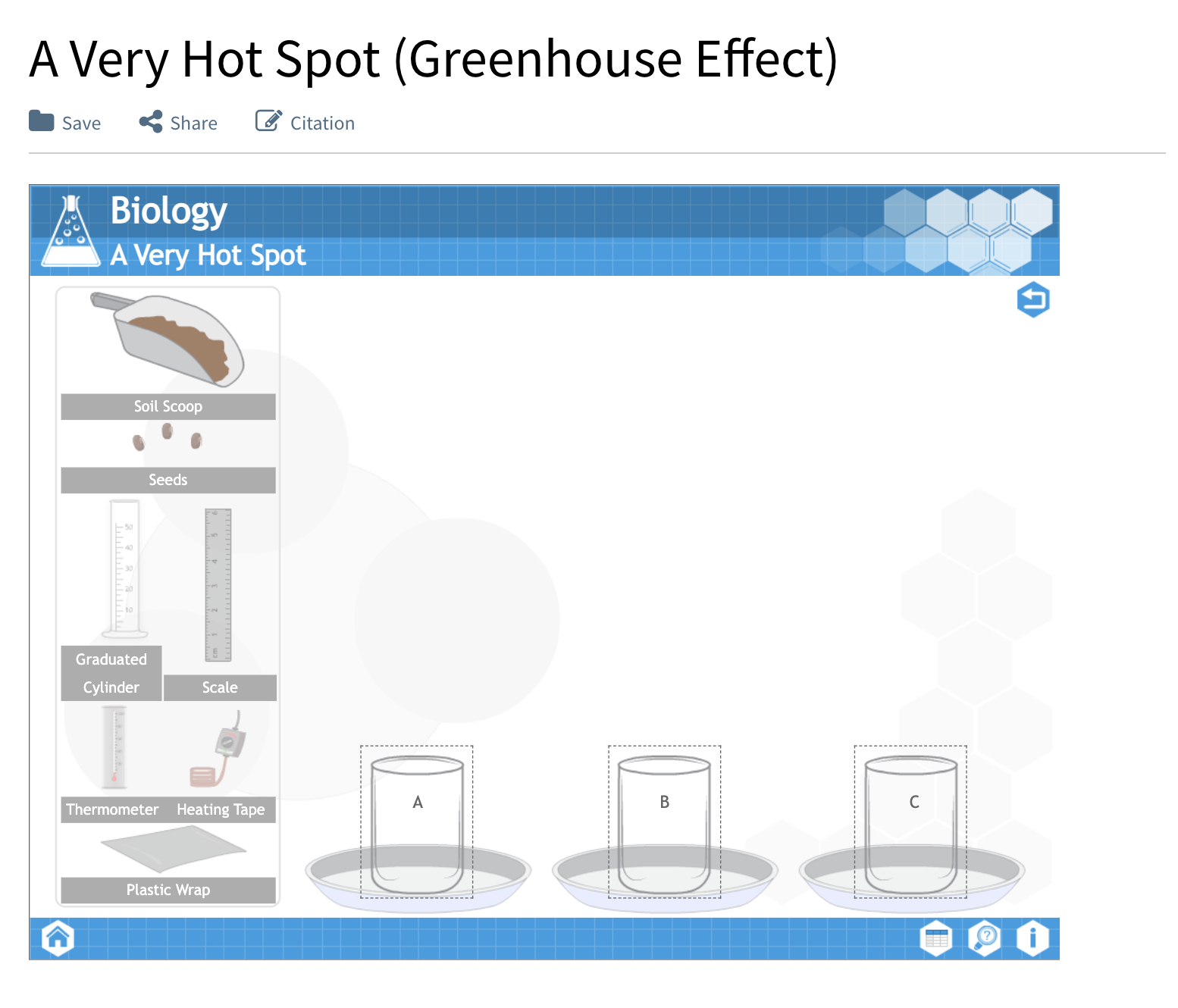 To spread the word about INFOhio's licensed digital tools and resources at no cost, share the updated Teach & Learn With INFOhio: Digital Resources for a Digital Age flyer with your colleagues that showcases select resources for each grade band. Also, make sure to Stay Connected by joining the INFOhio Community group on Open Space.